Bogey's: We'll Always Have DeFuniak Springs...
400 U.S. 90 East (Hotel DeFuniak), DeFuniak Springs, (850) 951-2233
Hours: Breakfast, Tues.-Sat., 7-10 a.m.; Lunch, Tues.-Fri., 11 a.m.-2 p.m.; Dinner, Tues.-Sat. at 5 p.m.
Reservations: Accepted
Children's Menu: Will accommodate major credit cards
Dress: Casual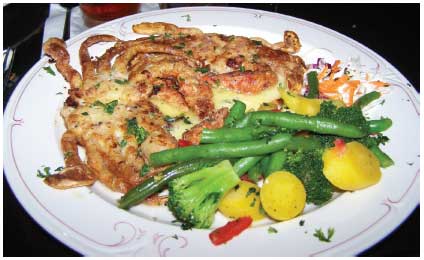 By Bruce Collier
OCtober 16, 2008 Issue

Bogey's Restaurant is part of the historic Hotel DeFuniak in equally historic DeFuniak Springs. The hotel, worth an article itself, is a throwback to the old fashioned, small-sized and privately owned establishments that offered guests breakfast, lunch and dinner, all in the same building, without the need to search out the town for places to eat. I have eaten lunch at Bogey's several times over the years—I work just around the corner—but this was my first dinner. Breakfast and lunch are also served, and the restaurant has a full bar.

We ate at Bogey's on a rainy weeknight, and I was encouraged to see that the dining room was well attended when we arrived. It's a single room, with a small lounge area near the bar for those just there for drinks or an appetizer. Bogey's has a handwritten list of early-bird specials, and some specially priced starters that probably vary daily.

The dining room is intimate, with tables nicely spaced for conversation without too much fear of eavesdropping. Carved wooden chairs, table linen, and muted lighting provide an adult-romantic feel. The walls are decorated with French and Italian liqueur ads from the early 20th century, as well as movie posters (several of Bogart films, naturally) and black-and-whites of Sinatra, Louis Armstrong and Miles Davis. Miles actually looks like he's not angry, a rare shot.

The menu offers appetizers, salads, fish and seafood entrees, and house specialties. The style varies from Asian/Caribbean fusion to Italian to American/Continental. It's a fairly wide variety. When's the last time you saw veal scaloppini on the same page as fish and chips? It's possible to satisfy pretty much any taste from this menu. Service, in the person of Theresa, was friendly and attentive, never rushed.

We started with Bahamian shrimp skewers and crab-stuffed mushroom caps. Six good-sized shrimp, plump and butterflied, came on a bed of shredded lettuce, dressed with a honey/garlic/soy dressing. They went fast. The mushrooms were lighter than I was expecting (a good thing), and the crab stuffing emphasized crab over stuffing. Six (maybe more) piping hot mushrooms yielded about two bites each, with a buttery béarnaise sauce. It was one of the best versions I've tasted of this sometimes-heavy dish.

Other starters are crab cake, soft-shelled crab, baked Brie, spinach and artichoke dip, and oysters Rockefeller. There are also salads that can serve as a main course: Montego Bay (with fried fish), Caesar, grilled or blackened shrimp salad, and a house salad.

Prime rib was a special feature that night—I think it may be a weekly thing—so my dining companion went for it. I chose soft-shelled crab, which I hadn't had in about a year. The beef was slightly rarer than the medium my friend had ordered, but she finished it all up. On the side were mixed vegetables, and we both shared a basket (two actually) of hot-from-the-oven bread, crusty and garlicky.

Two soft-shelled crab arrived (many places serve only one), sautéed and hunkered down in a pool of beurre blanc. I got the mixed vegetables, but baked potato is also available as a side, and there was a special that night of asparagus. I ate all there was, and let the bread pick up the rest. I did not taste soft-shelled crab until I was nearly 30, and I've been making up for lost time since then. Two-soft-shelled crab for $16.95 is a bargain.

Other main course choices are New York strip, filet mignon, chicken marsala, several veal selections, shrimp scampi, stuffed shrimp, catch of the day, and fried shrimp. The catch of the day (farm-raised tilapia that day) comes prepared with a number of sauces - piccata, almondine, Lorenzo, and Normandie. The nightly specials also include some fish variations.

We decided to split one dessert, though many were offered. Of tiramisu, "ice cream" versions of key lime pie and bananas Foster, a crème brulee cheesecake, chocolate bombe, and a bourbon pecan pie, with chose the latter, served warm with vanilla ice cream. I ate most of it, the prime rib having satisfied my friend until lunch the following day. The pie was the thick kind, just warm enough not to melt the ice cream right away. The server recited desserts, so I expect they change from night to night.

Lest you think DeFuniak Springs is nothing but an outpost of fast food joints and country buffets (it has both), drive into the center of town, to the fancy little hotel across the street from the police station, and slip into Bogey's. You can get one of a number of thoughtfully prepared items from an impressive variety of styles and won't bankrupt yourself in the process.